Length
: novel ( 8076 words)
Publisher
: Dreamspinner press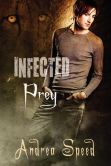 In a world where a werecat virus has changed society, Roan McKichan, a born infected and ex-cop, works as a private detective trying to solve crimes involving other infecteds.

The murder of a former cop draws Roan into an odd case where an unidentifiable species of cat appears to be showing an unusual level of intelligence. He juggles that with trying to find a missing teenage boy, who, unbeknownst to his parents, was "cat" obsessed. And when someone is brutally murdering infecteds, Eli Winters, leader of the Church of the Divine Transformation, hires Roan to find the killer before he closes in on Eli.

Working the crimes will lead Roan through a maze of hate, personal grudges, and mortal danger. With help from his tiger-strain infected partner, Paris Lehane, he does his best to survive in a world that hates and fears their kind… and occasionally worships them.
Review:
I liked this but for some reason I found it so slow to start . I can't put my finger on it as to why. I liked the characters. I loved the unique paranormal twist of werecats and a virus that caused it. I loved the romance between Roan and Paris. The romance alone is one of the main reasons I kept on and am so glad I did A little over halfway it picked up and held me. I fell in love with Both Roan and Paris and have gotten the series.
I guess what slowed me down was it really was over full of clichés and cute gay remarks. Don't get me wrong they were cute and funny just seemed way too many for me.
I will definitely be reading the rest of the series to see what happens to Paris and how Roan will handle it.
I recommend this to anyone that like paranormal romance, loving, lasting, committed romance, werecats, hot sex and a good mystery.