Today we are on our final stop in our trek back through time if you missed our first stop you can see it here in
Greece
our second stop was in post war
Miami
now on to New York City 1919 and lets see the fight for Women's rights. Lets go
Vote for Vixens
originally written for
Crimson Fower Review
s
Genre
: Historical, F/F and M/F
Publisher
: Self-published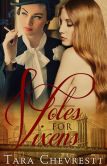 Elizabeth is a small-town Kansas girl who has grown up under her domineering father's shadow. When she finds out that her father has denied her hand in marriage to the town's most eligible bachelor--a man she's long secretly desired--she snaps. Her father punches her for the last time. She realizes she has no future and with stories of suffragettes, women's rights, and voting in her head, vows to be free.
She escapes to New York City where she meets Margaret. Margaret believes in the right to vote for women and engages Elizabeth to join in the National Women's Party activities.
Operation: Opera House is underway. In a month's time, President Wilson is due at the Metropolitan Opera House to give a speech. The NWP hopes that a peaceful protest will convince the president to gather congress in order to ratify the 19th Amendment.
As they prepare and plan, Margaret shows Elizabeth how to live and love. Under Margaret's sensual touch, Elizabeth begins to heal from numerous emotional wounds. But on March 4th, 1919, their "peaceful protest" becomes a riot on the streets of New York.
A riot ensues in Elizabeth's heart as well when her former flame shows up
Product Link:
http://www.amazon.com/Votes-for-Vixens-ebook/dp/B0094WQTV4/ref=sr_1_1?ie=UTF8&qid=1358093258&sr=8-1&keywords=vote+for+vixens
http://www.barnesandnoble.com/s/vote-for-vixens?keyword=vote+for+vixens&store=allproducts
Review:
Warning, rape but it's not explicit more alluded to.
Lizzie is intrigued by the outside world, but her father is happy keeping her trapped as a slave to cater to him and will never let her have a life or say of her own. When she finds out the man she hoped would ask for her hand had and her father refused then beat her for tempting the man to want her she had enough. Locking her father in the outdoor john she ran a way to start a new life and found there was more on the outside than she bargained for.
I was pleasantly surprised by this story. I found myself relating to Lizzie. It felt as if I went back in time and was there me fighting for women's rights. The history was enough to get you up to speed but not boring and dull. The subject matter was serious but the writing was lighthearted and fast paced. A great love story between Lizzie and Margaret and sweet yet sexy.
I recommend this to anyone that likes historical fiction with sweet hot romance, Politics, and a story of a girl finding herself and making a life for herself.
We hope you
enjoyed
the trip back in time check
back
and see where we go tomorrow.