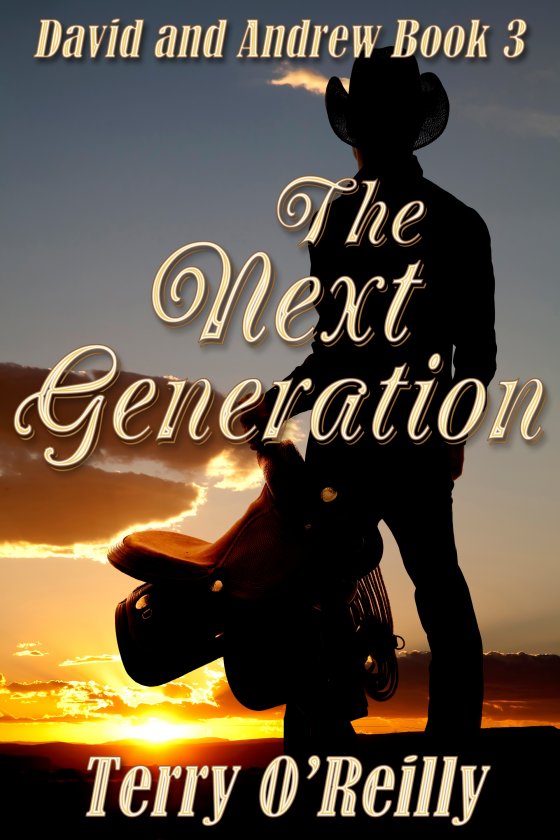 Title:
The Next Generation
Series:
David and Andrew Book 3
Genre:
MM contemporary, western/ cowboy
Warnings: This one is a nailbiter
Blurb:
Brad Sturgis, adopted son of Andy Barnes and David Bennett, is all grown up and ready to face life with his boyfriend, Hank Reynolds. However, he soon discovers life away from the Bennett-Barnes household proves much trickier than it seemed when he was growing up.
Brad finds many things in Hank's work as a horse trainer competing for the man's attention and affection. The time-consuming nature of the equine show world and the constant demands of the clients Hank coaches -- their interest in him sometimes goes beyond that of trainer/rider -- test the strength of the bond between the two men.
Will Brad learn to face such challenges with courage and good humor as his adoptive parents did before him? Will the next generation prove to be as tough and as tender, as solid and as steadfast as the one before?
Review:
This is the third book of the David and Andrew series. This one actually stand well on its own since it is mostly about Brad , their unofficially adopted son and his lover Hank, though you do get a better effect of the entire relationship if you read the first two, which I highly recommend.
In this one it starts out 5 years into Hank and Brad's relationship. Brad had been injured in the previous one and he and Hank have taken over Hanks parent's horse-showing business. The two young men have a very committed and loving relationship like Brads fathers, but jealousy and other life events does throw some curves in the way.
I have to say I did like the first two better that this was an entirely different story But I still loved it. The characters are so well done, though I would have loved to grab Hank through the kindle and popped him a few times, and hugged poor Brad to death, the story was awesome. I was ready to hang the author several times as I drew my conclusions and bit my nails till they bled. It's another one you won't want to put down once you start but well worth the time! Awesome story.
Recommendations:
If you like horse shows, cowboys, suspenseful romance, and hot loving manse this one is a must. I do recommend the first two also but this one goes well on its own.