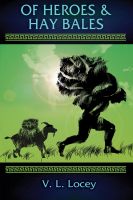 Title:
Of Heroes and Hay bales
Series:
Of Gods And Goats Book 2
Length:
Novel (
Words: 93,681

)
Publisher;
Self published
Warnings:
causes side splitting laughter
Blurb:
Whoever it was who said that life that on a farm is kind of laid back never lived on my farm.




You`d think that getting the upper hand with Hades, god of the Grecian underworld, would have given Ares and me the luxury of a vacation. We could have used some time to unwind and discover the wonders of being newly in love. It would have been super to spend our days relaxing with my dairy goats, chickens, dog, cat, Hereford, and George, the loveable Greek 'bison ', who all call my twelve acres in the mountains of Pennsylvania 'home.'





But no, we don`t get a vacation. What we get is another round of battling creatures from Greek mythology: visiting members of Ares` family who reek of goat buck, nights filled with horrific dreams, teenage goddesses, mortal boys, shocking revelations, and a worldwide search for what may be the only thing to defeat Hades and save the world as we know it.





Adult-content rating:

This book contains content considered unsuitable for young readers 17 and under, and which may be offensive to some readers of all ages
Review:
This book continues Libby's adventures of her life with the war God Ares. In this book Ares and his daughter Harmonia are living with her on her goat farm along with her goats, her cow her cat her dog and her chickens. Now she also has along with Ares and his daughter and sometimes his twin sons, a gay Minotaur that has saved her form Hades once and in this book is joined by the Satyr Pan and Ares chariot of fire and fire breathing warhorses. Libby is plagued by insomnia after putting on the helm of darkness in the last book ( you must read if you haven't it is hilarious also!) She soon finds out that is the least of her problems when they find out that Hades is trying to find Zeus' hidden armor and wreak more havoc on the world.
Oh my! This story is filled with action and adventure and is a laugh a minute. The characters are so adorable and well developed and the plot is also delivered with intrigue and wit. . It picks up where the last one left off but it stands alone perfectly. Be warned you will want to go back and read that one too! I can't wait for the next one to come out!
Recommendations:
If you like a fast paced story based about Greek gods, and goats, and snarky goat herders, that will make you roll in the floor with laughter and drool over the love scenes this one is a must read!!
If you liked this review and want to know more about th autor and htier books check out their
To see my review for Gods and Goats Book 1 click here