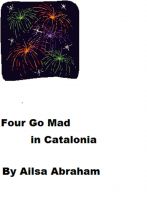 Title:
Four Go Mad In Cantalona
Release Date
June 27 2013
Genre:
Humor, Comedy, Satire
Length:
short story 6,100 words
Warnings:
could cause sidesplitting Laughter
Purrrs:
no sex just hilarious.
Blurb:
When Nanny Ab and The Ancient Mariner (not forgetting the faithful hounds) decide to look for a peaceful spot for her to write in the sun, they head for their usual hide-away in Spain. It's June, they know the place and the only thing Nanny knows she's forgotten is her hairdryer. So what can possibly go wrong?
Review:
This is a cute take on a working vacation. The story is cute, funny and interesting. I felt as if I was along on the adventure abroad.
Recommendations:
If you like a lighthearted, funny short story give this a try.